Hall Facilities
Hall
The main hall is approximately 15.5m by 8m, making it a good size for most activities and events. It is licensed for a maximum of 200 people.
The stage area is approximately 3m deep, and the full 8m width of the hall, with a central 4.8m wide proscenium (opening). The fixed stage does not extend into the hall, but additional staging units are available.
The hall and stage area are fitted with a variety of lights and a sound system for shows. However, they are only available by special request.
A large walk-in Store room at the end of the hall opposite the stage. This provides a home for tables, chairs and other large items. We now have a selection of large round tables as well as the more traditional folding rectangular tables. The hall also has 200 new folding chairs, and a small number of more comfortable padded chairs for small groups.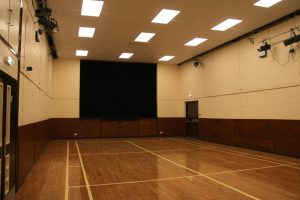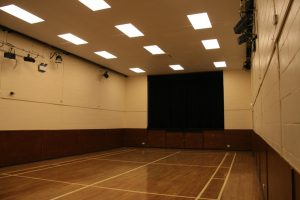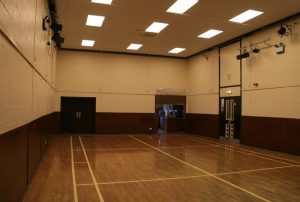 Kitchen
A small (approx 2.5 x 4.1m) 'domestic' kitchen opens off the hall through a serving hatch, suitable for teas and coffees. Equipment includes:
Tea Urns, Tea and Coffee pots
Cutlery and Crockery
basic cooking equipment
Fridge and Cooker
Please note the kitchen is not a catering standard kitchen, and is not liscenced for the preparation or cooking of food for sale.
Other Accommodation
There is small committee room (approx 2.4 x 9.4m), which can be divided into two with a curtain, there are two doors, allowing the room to be used as changing rooms.
Within the Committee Room there is a movable bar unit for serving.
Male and Female toilets and a disabled toilet with shower.
Plan of Hall
.